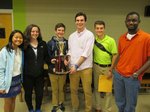 MHS Academic Team - 2017 NAQT State Champs
Meridian High School has another state championship to celebrate!!
On Saturday, March 25, the Meridian High Academic Team won the NAQT State Championship of Mississippi tournament hosted at Itawamba High School! The Wildcat Academic Team defeated hometown rival Lamar School in a thrilling double-overtime final to become the NAQT State Champions!
Team captain Silas Clymer was named to the All-State first team as the #1 individual scorer in the tournament, and senior Caleb Harper was named to the All-State second team as the #7 individual scorer. Senior Kelly Bator was also a member of the victorious MHS A-Team on Saturday.
Congratulations to the entire Academic Team for capping off their outstanding season with this awesome title:
2017 NAQT State Champs—Meridian High School!!!