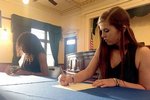 Kai Horne (left) and Cassidy Hines (right) sign to play at the next level
Article Courtesy of The Meridian Star
By Drew Kerekes dkerekes@themeridianstar.com
Kai Horne and Cassidy Hines' friendship goes back to Poplar Springs Elementary School, before Horne moved to Brandon for a number of years.
Now, with Horne having been back in Meridian for several years, the two Meridian High School athletes decided it would be fitting to host a signing ceremony together Wednesday afternoon at City Hall. They sat just feet apart — and they won't be far apart in college either. Horne inked with Millsaps College to run track and field, while Hines signed with Belhaven University to play soccer; the two campuses are just minutes away by car.
"It was like we're back together again," Horne said. "I've known her for so long, probably since the second grade. We did Girl Scouts together, and we've been through so much all these years, so here we are again one last time — but not really, because she'll be right down the street."
Hines said once Horne moved back from Brandon and joined the Meridian track and soccer teams, their friendship was rekindled.
"We also did Distinguished Young Women (of Meridian and Lauderdale County) together, and it grew even more, so having (my signing) with her was the most special thing," Hines said.
Even more than their respective sports, Horne and Hines were driven by their desired career choices. Horne will attend Millsaps to study neuroscience, while Hines will focus on sports medicine at Belhaven.
Horne's interest in neuroscience stems from wanting to do research to help professional athletes deal with neurological issues such as concussions and aid in the development of protective equipment for hockey and football players.
"More specifically, at the professional level, because that's where you get the most issues because they've been playing so long," Horne said. "I want to help make a difference with that."
Hines said she's known Meridian High School athletic trainer Chad Acton most of her life, and observing his work made her realize sports medicine was the career for her.
"Once I got into soccer at Meridian High, he was always wrapping ankles, wrapping my knee and helping me out," Hines said. "Once I saw a muscle could be pulled and then fixed so quickly, it was easy to understand. I went into the nursing program at Meridian High and learned more about it and absolutely fell in love."
Hines has also developed a love for soccer over the years. A senior center defender, Hines said she's been playing soccer since she was 4.
"I just love the rush you get when you play on the field, and I love the sisterhood you're able to experience," she said.
Track and field brings a thrill Horne loves, and she wanted to continue competing in college because of that. Horne runs the 4x400-meter relay, the 800-meter dash and the 4x800-meter relay and also pole vaults for the Lady Wildcats.
"I love the whole atmosphere with my team," Horne said. "We're a family, and we always have each other's back. My coaches really care about me, and it's just a good vibe altogether."