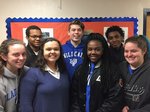 2017 MHS Scholastic Art Award Winners pictured from left to right: (back row) Stanley Jordan, Henry Todd, Brandon Tillman, (front row) Kelly Bator, Sophia Calderon, Ashlyn Spinks, and Heather Roberts
The 2017 Scholastic Art Award results are in, and Meridian High School art students boast 11 awards.
What do these Meridian High School art students have in common with Andy Warhol, Robert Redford and John Lithgow? They are all National Scholastic Art Award Winners from their respective high schools.
The Scholastic Art Awards have celebrated 90+ years as a unique presence in the nation's classrooms by identifying and documenting outstanding achievements of young artists. Since 1923, 12 million students have participated, two million young artists and writers have been recognized – many of whom have gone on to produce pioneering creative work with worldwide impact.
Meridian High School had another significant showing this year with 11 winning pieces of artwork including three Gold Key awards, three Silver Key awards, five honorable mentions, and one Gold Senior Portfolio. Two MHS teachers submitted their student's work for the judging: Dillan Ladner and Marsha Iverson.
"These students worked tirelessly to achieve great things, because we help them believe they can," said MHS Art Instructor Marsha Iverson. "We give them the tools, critical thinking skills, and safe environment in which they need to succeed."
The Mississippi Museum of Art hosts the Mississippi Regional Competition each year, and students from middle, junior high, and senior high schools from across the state participate in the competition. More than 2,000 entries in a wide variety of categories, including painting, drawing, mixed media, photography, sculpture, graphic design, animation, textile fiber design, as well as art and photography portfolios are judged by a panel of judges over a course of several days. In this search, judges look for originality, skill and technique, and evidence of the emergence of a personal/artistic vision and style.
All Gold and Silver Key winners will be on display at the Mississippi Museum of Art in Jackson from February 18 until April 2, 2017 when awards will be presented to the students. Honorable mention artwork is on display in the MHS Visual Arts Department. All Gold Key works will be forwarded to New York City for national judging in late spring.
"The Art Department at MHS is one of the best programs in our state, and, as a result, this is just a small part of the fruits from our labor," said MHS Principal Victor Hubbard.
Overall, 19 MHS students submitted 137 pieces of artwork including six senior portfolios to the competition. These works included drawings, paintings, sculpture, and ceramics.
Congratulations to this following student who won National Scholastic Art Awards this year:
Gold Key Awards
Heather Roberts, Meridian High School Entrances (Photo Portfolio)
Ashlyn Spinks, Meridian High School Somewhere-Nowhere (ceramics)
Ashlyn Spinks, Meridian High School Gator Melon (ceramics)
Silver Key Awards
Kelly Bator, Meridian High School Bridge to Darkness (photo)
Heather Roberts, Meridian High School Boat House (photo)
Heather Roberts, Meridian High School Entrance (photo)
Honorable Mention Awards
Kelly Bator, Meridian High School Before the Sunrise (photo)
Sophia Calderon, Meridian High School Half Hearted (drawing)
Stanley Jordan, Meridian High School Self Portrait (drawing)
Brandon Tillman, Meridian High School Self Portrait (drawing)
James Todd, Meridian High School Scavengers Track (photo)
Established in 1923 by M.R. Robinson, who also founded Scholastic, Inc., The Scholastic Art and Writing Awards is open to students in grades 7-12, recognizing outstanding achievement in the arts. The Alliance for Young Artists & Writers, Inc. is the non-profit organization that administers the event. Located in New York City, the Alliance oversees all national judging.