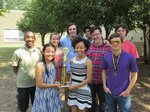 MHS Academic Team
Congratulations to the Meridian High Academic Team! On Saturday, the Wildcat Academic Team won their first tournament of the year! They were the undefeated champions of the Itawamba Invitational Tournament at Itawamba Agricultural High School in Fulton, MS.
Captain Silas Clymer was the 2nd highest individual scorer at the tournament, and senior Caleb Harper was the 3rd highest individual scorer. Led by these two students, the A-Team dominated the competition on Saturday, winning all 8 of their matches to bring home the 1st Place trophy!
Hats off to all the members of the Academic Team for this outstanding performance to start the year!