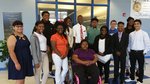 Freshman Academy Role Models
The Meridian High School Freshman Academy will be naming Student Role Models each month. The Freshman Academy Role Models are nominated by teachers and selected based on being punctual (perfect attendance for the month), prepared (maintains a C or better), and polite (exemplary behavior).
The Freshman Academy Role Models are: Aurora Smith, Nylah Hardaway, Omarius Boyd, Jokeria Johnigan, Malayzha Nelson, Malik Price, Aaliyah Graham, Johnny Shambry, Serenity Holloman, John Young, Braxton Baylor, Jaden McPhail, Yovis Perdomo, Alzier Smith, Akieva Rush, and Ta'Daisha Flowers.
Congratulations to these outstanding students!