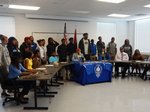 Members of the Meridian High School Track Team sign with colleges Thursday afternoon at the school's Multi-Purpose Building surrounded by teammates.
By Drew Kerekes
dkerekes@themeridianstar.com
Article Courtesy of the Meridian Star
Clydarius Everett dreamed of Thursday's signing ceremony for years, and on the eve of the big day, the Meridian High School senior said he could barely contain his excitement.
"Ever since I was in seventh grade, I just dreamed about signing day and how it was going to be and how emotional it would be," Everett said. "Last night, I was just thinking, 'Wow, I'm going to be a collegiate athlete.' This is crazy; it's a dream come true."
Everett, who competes in 800-meter, 1-mile and 2-mile runs, joined eight other MHS track athletes Thursday morning at the school's multi-purpose building to sign with their respective schools. For Everett, it was Xavier University in New Orleans where he chose to spend his next four years. And it was more than just the yummy cafeteria food — or New Orleans cuisine in general — that made him decide on Xavier.
"I saw they had my major, biomedical engineering, and I saw they were No. 1 in sending African American students off in pharmaceuticals and things like that, so I was like, 'Hey, this is my fit. It's probably my calling right here,'" Everett explained. "I hit them up, we got to talking and got the ball rolling."
In addition to Everett, these eight others inked with the following schools: Zaria Jones, Southern Mississippi; Johnny Trotter, William Carey; Keyana Boyd, Mississippi College; Calia Young, Meridian Community College; Josh Brown, Alcorn State; Taron King, Williams Carey; and Adonus Brooks and Jatavius Scott, Coahoma Community College.
MHS track coach Regonal Walker said it was both awesome and overwhelming to have nine of his athletes continue their education and track careers.
"I'm ecstatic," Walker said. "A lot of these kids, when they first started, were not the best athletes, and they worked really hard to become what they became. It just speaks volumes about how hard they're willing to work."
Everett, though, said Walker and his assistant coaches deserve a lot of credit for Thursday's signing day.
"He's like a father figure," Everett said. "He's been with us ever since middle school, watched us grow and gave us great advice. He's been here for us for anything, and he's a great motivator."
Senior Zaria Jones, who won first place at the MHSAA Class 6A state track meet this past weekend in Pearl in the high jump, said she's grateful for both her performance at state — which landed her on The Clarion-Ledger's All-State girls track team — and the chance at competing at a Division I school.
"I'm overwhelming by everything," Jones said. "I just want to thank God for blessing me with the talents I have and this opportunity."
The decision to attend Southern Miss was an easy one once she made the trip to campus, Jones added.
"I love the coaches, and I love the facility," Jones said. "You know how you get that feeling when you go to a certain place? I had that feeling when I went to Southern Miss."
Walker said though his teams didn't win state, the coaches felt sending so many athletes to the next level was the more important accomplishment.
"You win a trophy or a ring, and you're good for a year," Walker said. "If you give them an education, that lasts the rest of their lives. I'm proud to be able to point them in the right direction."
Jones was also recognized by MHS for her contributions to the Lady Wildcats' basketball team Thursday morning. She finished her prep basketball career with 812 points, 665 rebounds and 56 blocked shots in 81 games played.