2016 Mr. and Miss Meridian High School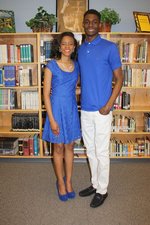 Mr. and Miss MHS
Miss MHS - Simone Amos
Miss MHS, Simone Amos, is the daughter of Bonnie DuBose and Roderick Amos.
Simone has been very active in school activities throughout her years at Meridian High School. She has served as ninth grade Vice President, eleventh grade Majority Representative, National Honor Society reporter, member of National Art Honor Society, and former member of Meridian High Concert Choir. Simone has been very successful in her academics receiving academic letters every year and ranking in the top ten percent of her class.
She is also involved in the community. Simone is the President of the Delta G.E.M.S, youth empowerment program sponsored by Delta Sigma Theta Sorority, Inc. and a Community of Hope Scholar. Simone is an active member of Bethel Missionary Baptist Church.
Simone plans to attend Tuskegee University in the fall and major in Mass Communications.
Mr. MHS - Travis Reed
Mr. MHS, Travis D. Reed, is the son of Ms. Yolanda Watts and Charles Reed Jr.
Travis has been a student in the Meridian Public School District since Kindergarten. While at Meridian High School, he played football for four years in the position of wide receiver. During his journey, he has been influenced by several great teachers that have left a lasting impact on his education and influenced his life.
Upon graduation, Travis plans to attend Jones Community College with a full scholarship to play football. He hopes to play well enough to transfer to a Division I school and pursue a degree in Forensic Science.