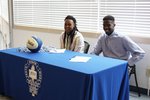 MHS student athletes Tariah Mouton (left) and Don'Taidrae Scott (right) committed to play college basketball in a signing ceremony on Tuesday, April 12.
By Elton Hayes ehayes@themeridianstar.com
Article Courtesy of the Meridian Star
Meridian High School's Don'Taidrae Scott and Tariah Mouton made their commitments to Hinds Community College and Pearl River Community College, respectively, official Tuesday in a signing ceremony at Meridian High School.
Members of the Wildcat academic and athletic communities came together to join the two and be a part of the seminal event in the school's multi-purpose building.
"We're not just a basketball team, really, we're a family," Scott said shortly after the ceremony concluded. "We're more than a team. We're brothers."
While Scott, who aspires to pursue sports medicine in college, helped lead Meridian to a 27-5 record his senior season, his path to Hinds Community College wasn't exactly the smoothest. After arriving at Meridian his freshman year weighing 315 pounds, he sat out his sophomore season. His transformation — which included losing more than 100 pounds — during his junior and senior seasons left even his most ardent supporters impressed. He currently weighs 209 pounds.
"He's a hard worker," Catrina Seals, Scott's mother, said. "He's dedicated himself to basketball, and he loves Coach (Randy) Bolden. And I appreciate Coach Bolden for working with him. I'm just so overwhelmed. As a mother, I am very proud. It means the world to me. You just don't know."
Bolden said Scott's presence and influence won't easily be duplicated.
"His work ethic on the floor, and his leadership off the court... he was one of our leaders who the guys followed," Bolden said. "When he spoke, they followed. We're going to miss his leadership ability as well as his work ethic. He led by example. And it's bittersweet to lose him, but I'm proud to see him go on and be able to do something he loves. His best basketball is ahead of him."
Just a few feet from Scott stood Tariah Mouton as family members and friends snapped photographs and basked in the excitement. Mouton's father, Marco Mouton, and stepfather, Maurice Hudson, flanked the 5-foot-7 guard as she spoke with friends and teammates.
"This means everything," Tariah Mouton, who is interested in a career in physical therapy, said of experiencing the moment with those closest to her. "I've been waiting for this since ninth grade. I've wanted a scholarship, and it happened. It means everything to me. I'm going to miss my teammates. We have a bond — we're like sisters. I'm going to miss that the most."
After playing point guard for head coach Patricia Wilson's Lady Wildcats for the first time in her high school career last year, Mouton will transition to a full-time role at the position at Pearl River Community College next season. Mouton, who averaged 11 points per game and 3 rebounds per game last year, said she eagerly awaits the new challenge.
"I'm excited to see how I'll turn out with running the No. 1 position," she said. "I'm looking forward to improving, and I'm ready to see how it turns out."
Mouton's mother, Laquanta Hudson, said seeing the years of her daughter's commitment to the game culminate in an athletic scholarship makes the years-long toils worthwhile.
"We have been basketball parents since she was 9 years old," Hudson said with a laugh. "Just seeing her progress and get this far, we are so proud of her. We're looking forward to seeing what she will do now that she's in college. I told her that it's going to be a little more advanced than high school. We're glad and proud that she made it to the next level."