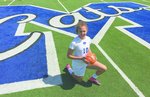 All-Metro Player of the Year Kaylee Zettler
All-Metro Player of the Year: Meridian's Zettler finished career with 96 goals
By Drew Kerekes dkerekes@themeridianstar.com
Article Courtesy of the Meridian Star
If the Meridian High School girls soccer team needed a goal, Kaylee Zettler was the one to whom they looked.
The senior forward didn't falter under the spotlight, finishing with 32 goals this season and 96 for her career. Both were school records — the previous single-season goal record at MHS was 25, and the previous career goal record was 60 — and both speak to why Zettler was given the MVP award for the Lady Wildcats this season, as well as earning a spot on The Clarion-Ledger's All-State team.
Because of her scoring prowess and record-setting season, Zettler was named the 2015-16 Meridian Star All-Metro girls soccer player of the year.
"It's exciting," Zettler said of the recognition. "It's a very big honor. I'm thankful."
Zettler finished third in the state in goals scored and took 87 shots on the season, 68 shots on goal. Lady Wildcats head coach Mike Smith said he was happy for all of the recognition his star senior earned for her season.
"I"m extremely proud of Kaylee and all she accomplished this year," Smith said. "It's been a really good year for her. She's received a lot of awards and recognition, which she deserves, because she's worked hard at it."
When she looks back on her career, Zettler said she has no regrets about her final season suiting up for MHS.
"I'm proud of myself," she said. "I feel like I really set the bar high for my senior year, and I don't think I'd change anything."
She also credited Smith for her improvement this season and throughout her time at MHS.
"He helped me tremendously," Zettler said. "He's a big contributor in my success. We'd do lessons and stuff, and he taught me a lot of what I know."
Smith, though, said much of Zettler's accomplishments are a result of natural ability.
"She has two things you can't teach: speed and aggressiveness," Smith said. "She just needed to work on her technical skills, so we worked a lot on her technique, and she got better at it."
She also gained confidence, Smith said. During her sophomore year, Smith described Zettler as a player who would play confident against girls she knew she was better than, but would struggle against top-tier teams.
"This year, she knew she could play with anyone in the state," Smith said. "We tried to instill that in her, to make her believe she was just as good as those players."
Zettler said she just hopes she and her teammates have left a lasting impression on the program for future would-be soccer players.
"I feel like we tried to spark the program a little bit," Zettler said. "I hope we did that for the next couple of years, and that will help attract players to want to play here."
Smith, who won't be coaching the Lady Wildcats next season, said Zettler will be difficult to replace and was a pleasure to coach.
"She always wanted to know what she did wrong; she never really wanted to know what she did good," Smith explained. "She wanted to know things to get better at, so coaching her was really easy. She's the reason you coach, so you can coach kids like her. That's why you do it."
Zettler plans to continue her soccer career at William Carey University in Hattiesburg, and she has no intention of settling for where she is now as a player.
"I kind of want to be a standout," Zettler said. "I have high expectations for myself. I just know I need to work really hard and do my best, and I'll be rewarded.
Mary Zettler and Kedric Clarke are Kaylee Zettler's parents.