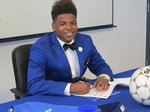 Meridian High School center midfielder Kelvin Mauriscey is pictured Wednesday morning at the school signing to continue his soccer career at Copiah-Lincoln Community College.
Article Courtesy of the Meridian Star
By Drew Kerekes dkerekes@themeridianstar.com
Kelvin Mauriscey has some good advice for anyone looking to advance their soccer career beyond the high school level.
"Just keep working," Mauriscey said. "Just get better. Practice every day, because practice makes perfect."
That proved a winning formula for the Meridian High School senior center midfielder, who signed Wednesday morning to continue his soccer career at Copiah-Lincoln Community College.
"It feels great, knowing I get to travel places and better myself against the competition," Mauriscey said.
First-year Wildcats soccer coach Josh Herrington said it was great to see one of his players advance to the next level after having only one season under his belt leading them.
"I am extremely proud of Kelvin," Herrington said. "He fought so hard this season and grew as a leader. He was crucial to our team, and we will miss him greatly. Kelvin is going to do great at Co-Lin, and I look forward to keeping up with him."
After visiting Co-Lin previously, Mauriscey said he was sold that Wesson was the place to spend the next two years of his life.
"It was just the campus and the players," Mauriscey said. "Some of the players I connected with on my visit up there."
While he will be relatively close to home — Wesson is approximately two hours from Meridian — Mauriscey said that wasn't high on his list of priorities.
"It wasn't really important (staying close)," Mauriscey said. "I just felt like it was home there."
While he's looking forward to playing for Co-Lin, Mauriscey said he will miss playing under Herrington at MHS.
"He helped me a lot," Mauriscey said. "He pushed me, because it was my senior year, and he made me work. I really appreciated him."
Mauriscey said it's having the chance to keep proving himself as a player is what he's looking forward to the most about college.
"Hopefully I'll do well and get another opportunity somewhere else at the D-I level," he said. "I hope to put in some work and get some (playing time)."
Mauriscey is the son of Elaine Dubose and Kelvin Mauriscey.