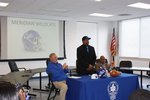 MHS Head Football Coach Calvin Hampton
The Meridian Public School District is pleased to announce that Calvin Hampton has been named the Head Football Coach for the Meridian High School Wildcats.
Coach Hampton is a graduate of MHS and former player for the Wildcats. He has served as an Assistant Coach for MHS in charge of the Offensive Line for the past 10 years.

We would like to thank the members of our search committee for their commitment to helping MPSD select the Head Football Coach. Committee members include: Terry Moore, Victor Hubbard, Chuck Butler, Dr. Amy Carter, Bo Bailey, Eric Young, Dr. Charles Ray, Ricky Hood, Robert Cole, and Jackie McFarland

Please join us in congratulating Coach Hampton!

We are looking forward to an exciting 2016 football season with Coach Hampton as our new leader on the gridiron.

Go Cats!