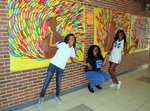 National Honor Society Students proudly display the turkey feathers sold.
The Meridian High School chapter of the National Honor Society sold brightly-colored paper turkey feathers for one dollar as a service project to raise money for L.O.V.E.'S Kitchen. The feathers were signed by the purchaser and then placed on a cut-out of a turkey throughout the halls of the school. In the fifth year of the fundraiser, the students raised $1333.85 which is almost triple the amount they have raised in years past!
To read the full article in the The Wildcat online newspaper, visit http://mhswildcat.com.