The Meridian Public School District has named Poplar Springs Elementary Parent/Teacher Association President Michael VanVeckhoven as the 2012 Parent of the Year.
MPSD Superintendent Dr. Alvin Taylor says VanVeckhoven's contributions to the Meridian Public School District are priceless. "Michael VanVeckhoven's commitment to the Meridian Schools is nothing short of outstanding, and he is so involved that sometimes people think he is an employee of the District! We truly appreciate his hard work for the students of the Meridian Public School District."
VanVeckhoven's dedication to the Meridian Public School District is seen in his tireless volunteer efforts. In addition to serving at 2011-12 PTA President for Poplar Springs Elementary, he is one of the coordinators for the MPSD Study Buddy program. Through the Study Buddy program, 50 volunteers tutor and mentor students throughout the school district. VanVechkoven meets with his Study Buddy at Magnolia Middle school for one hour each week.
He also meets monthly with Superintendent Taylor as a member of the "Step Up! Sign Up!" community group that works through various organizations to help increase tutoring, mentoring, and parental involvement within the district.
"Michael worked very closely with us to set our school calendar of events this year as PTA President, and he has supported us one hundred percent by attending every school event as well as bringing in support from the community," said Poplar Springs Elementary Principal LaVonda Germany. "Michael has a true love for public education, and we are thankful for his support."
VanVeckhoven is the General Manager of New South Ford-Nissan. He and his wife, Dana, are the proud parents of a son who is a first grader at Poplar Springs Elementary and a four-year-old daughter.
MPSD also congratulates the following Parents of the Year at each school:
Darry and Tanya Clark, Crestwood Elementary
Kim Houston, Oakland Heights Elementary
Denise Pugh, Parkview Elementary
Crystal Dubose, T.J. Harris Elementary
Tanija Pierce, West Hills Elementary
Stephanie Thomas, Carver Middle
Felicia Brown, Magnolia Middle
Jackie Dunn and Paige Corey, Northwest Middle
Brad Huff, Meridian High School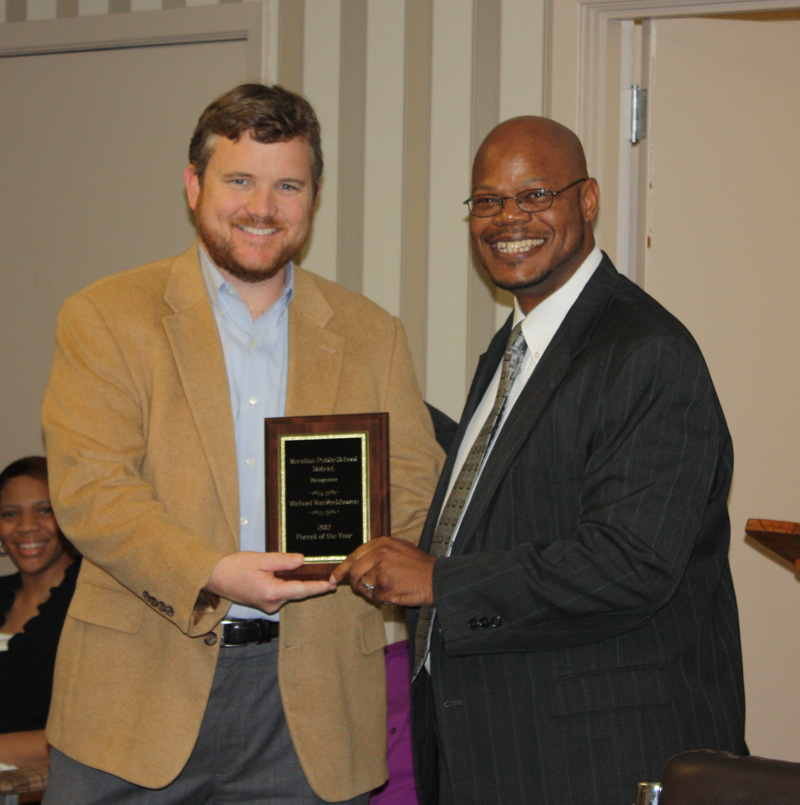 MPSD Superintendent Dr. Alvin Taylor presents 2012 MPSD Parent of the Year Michael VanVeckhoven with a plaque at a recent meeting of the Board of Trustees.